Long before Mahatma Gandhi was given the title of Mahatma, there was another social reformer on whom the title of Mahatma was bestowed.
Jyotirao Govindrao Phule was a thinker and a writer.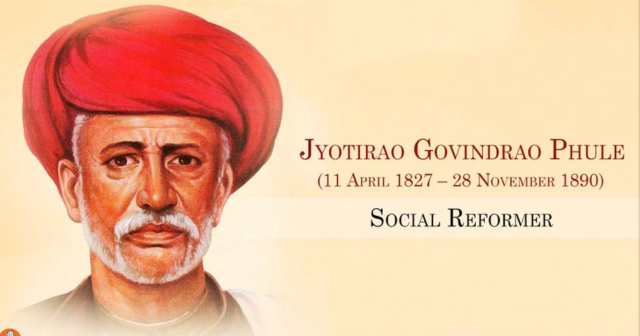 He was known as Mahatma Phule, Jyotiba Phule, Jotiba Phule, Jotirao Phule.
Phule was given the title of Mahatma on May 11, 1888, by Vithalrao Krishnaji Vandekar, a Maharashtrian social activist.
His work is related mainly to eradication of untouchability and caste system, emancipation and empowerment of women, reform of Hindu family life.
Phule is considered as one of the most prominent personalities who brought social reforms in Maharashtra.
Along with his wife, Savitribai Phule, he is regarded as pioneers of women's education in India.
His wife Savitri Bai Phule was also a social worker.
She is known as the first woman teacher of India and the first leader of the women liberation movement.
Personal Life
Jyotirao Govindrao Phule was born in 1827 in Satara district of Maharashtra.
His father was Govindrao and mother was Chimnabai.
Jyotirao's family belonged to 'mali' caste and their original title was 'Gorhay'.
Jyotirao's father and uncles served as florists, so the family came to be known as `Phule'.
He was married at the age of 13, to a girl Savitri Bai of his community.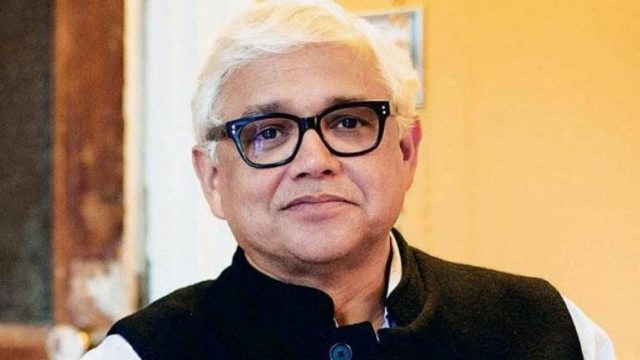 He encouraged and helped his wife Savitribai to read and write.
He was persuaded to attend the local Scottish Mission High School, from where he completed his English schooling in 1847.
There, he met Sadashiv Ballal Govande, a Brahmin, who remained his close friend throughout his life.
Apart from being a social activist and reformer, Phule was also a businessman.
He was also a cultivator and contractor for the Municipal Corporation.
He also became the municipal commissioner of the Poona municipality in 1876 and served till 1883.
Social Reforms
He realized that lower castes and women were the most disadvantaged sections of society and only education can emancipate them.
Phule was a strong critique of child marriage as well as he also worked for widow remarriage.
The couples were the first native Indians to open the first indigenously-run school for girls in India in August 1848 at Pune in Maharashtra.
Later, the Phules started schools for children from the then untouchable castes such as Mahar and Mang.
In 1863, he opened a home for pregnant Brahmin widows to give birth in a safe and secure place.
He opened an orphanage home to avoid infanticide. In this regard, he is believed to be the first Hindu to start an orphanage for the unfortunate children.
In 1868, Jyotirao decided to construct a common bathing tank outside his house to exhibit his embracing attitude towards all human beings and wished to dine with everyone, regardless of their caste.
In 1873, Phule founded the Satyashodhak Samaj, or the Society of Seekers of Truth, for the rights of depressed classes, to denounce the caste system and to spread rational thinking.
His wife Savitribai became the head of the women's section.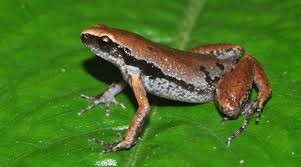 Due to the struggle of Jyoti Phule and his organization Satyashodhak Samaj because of which the government passed the Agriculture Act.
A Pune-based newspaper, Deenbandhu, provided the voice for the views of the Samaj.
Jyotirao Phule is credited with introducing the Marathi word Dalit, meaning broken or crushed to describe those who belonged to lower caste and outside the traditional caste or varna system.
This term was later popularized in the 1970s by the Dalit Panthers and also found a place in literature.
Savitribai Phule (3 January 1831 – 10 March 1897)
She worked to abolish the discrimination and unfair treatment of people based on caste and gender.
She is regarded as an important figure of the social reform movement in Maharashtra.
Savitribai and Jotirao had no children of their own, but they adopted Yashawantrao, a son born to a Brahmin widow.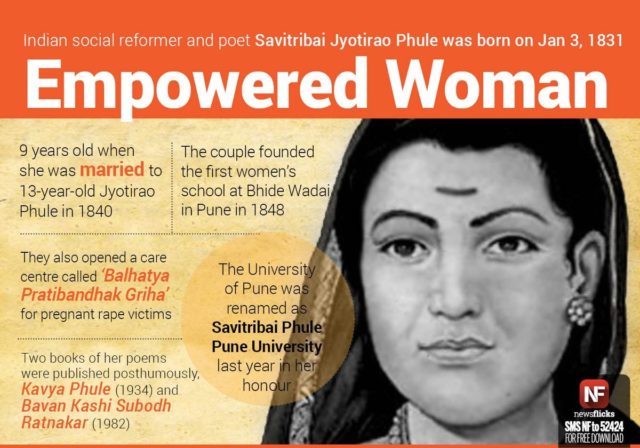 She is regarded as the first female teacher of India and headmistress.
But, at the time of her marriage, Savitribai Phule had not been educated because Brahmins forbade it for people of her low caste and gender.
According to government records, Jotirao was responsible for educating Savitribai at their home.
Together with her husband, she taught children from different castes and opened a total of 18 schools.
Fatima Begum Sheikh, a close friend of Savitribai, was the first Muslim woman teacher of India.
Earlier Fathima went along with Savitribai to the Normal School and they both graduated together.
Savitribai published Kavya Phule in 1854 and Bavan Kashi Subodh Ratnakar in 1892, and also a poem entitled "Go, Get Education".
She established the Mahila Seva Mandal to raise awareness for issues concerning women's rights.
Savitribai died a heroic death trying to save the son of Pandurang Babaji Gaekwad.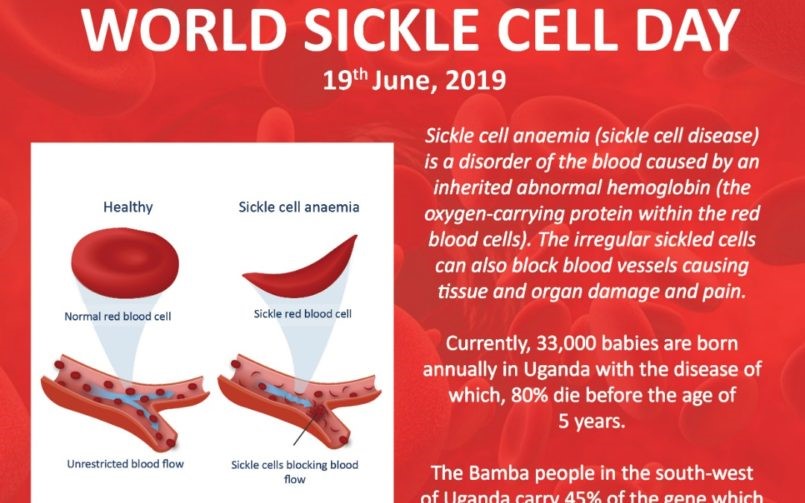 Last stage
In 1888, Jyotiba suffered a stroke and was rendered paralyzed.
On 28 November 1890 he passed away at Pune in the age of 63.
His Works
He has written more than 16 books including poems and plays.
The most famous of his books were Tritiya Ratna (1855), Gulamgiri (1873), Shetkarayacha Aasud, or Cultivator's Whipcord (1881), Satyashodhak Samajokt Mangalashtakasah Sarva Puja-vidhi (1887) and many more.
The most famous one among them was Gulam Giri which he dedicated to the people of America who were abolishing slavery.
He wrote dramas like 'Satsar' Ank 1 and 2, which were enacted under his directives to spread awareness against social injustice.
Legacy
A biography of Jyotiba was penned by Dhananjay Keer in 1974 titled, 'Mahatma Jyotibha Phule: Father of Our Social Revolution'.

The Mahatma Phule Museum in Pune was set-up in honour of the great reformer.
The Government of Maharashtra introduced the Mahatma Jyotiba Phule Jeevandayeeni Yojana which is a cashless treatment scheme for poor.
Ideologies
He was greatly influenced by Thomas Paine's book Rights of Man.
Phule considered the Aryans as a barbaric race who suppressed the indigenous people and instituted the caste system as a framework for subjugation and ensure the pre-eminence of the Brahmins.
Jyotiba Phule devoted his entire life for the liberation of untouchables from the exploitation of Brahmins.
He also attacked the Vedas and considered them to be a form of false consciousness.
He outlined Puja protocols that the lower caste people were not allowed to learn.
He opposed Brahminism and started marriage ceremonies without any Brahmins and later it also got recognition from the Bombay High Court.
He had similar views for the Muslim conquest of India.
He considered the British as relatively enlightened and liberal.
His work and awareness campaigns influenced and inspired Ambedkar and Gandhi, who took up these issues further.
Phule breathed his last in 1890 and shall it be termed as co-incidence that Ambedkar was born in 1891.
– – – – – – – – – – – – – – –